Pruning Eye Injuries
Introduction – epidemiology
Northeast Center chart review research at northeastern farmworker health centers identified eye injuries during pruning as a fairly common occurrence (Northeast Center, unpublished).
National data also indicate agricultural eye injury (including foreign bodies) are more than two times higher than general workers (8.7 versus 3.8 per 10,000 workers).
Farmworker eye health research from North Carolina (Quandt et al., 2008) shows that farmworkers have a high level of unmet need for both routine preventive eye care and treatment or correction of vision problems:

Fair or poor eyesight was reported by 21.3%. A substantial number of farmworkers report difficulty with specific tasks requiring both near and distance vision.
5.1% reported wearing glasses or contact lenses.
More than 11% reported difficulty in recognizing a friend across the street,
19.5% reported difficulty in reading.
20% reported multiple eye symptoms.
< 1 in 10 wore eye protection
38% reported never having visited any eyecare professional.

Protective eyewear use – not a substitute for reducing the hazard itself, but may be the worker's only option in some situations. Research shows there are significant barriers to protective eyewear use: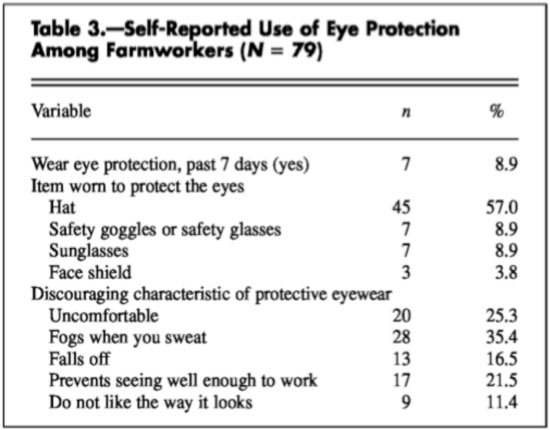 From: Quandt, S. A., Feldman, S. R. , Vallejos, Q. M. , Schulz, M. R. , Verma, A., Fleischer, A. B., Arcury, T. A., (2008). Vision Problems, Eye Care History, and Ocular Protective Behaviors of Migrant Farmworkers. Archives of Environmental and Occupational Health, 63 (1), 13-16.